I don't get to take photos of personal projects as much as I'd like anymore. So it was nice when I got the chance to organize a casual group get-together with my photography club with the intent of taking portraits. From this was born the bastard child of a drunken night between a Portrait and a Montage!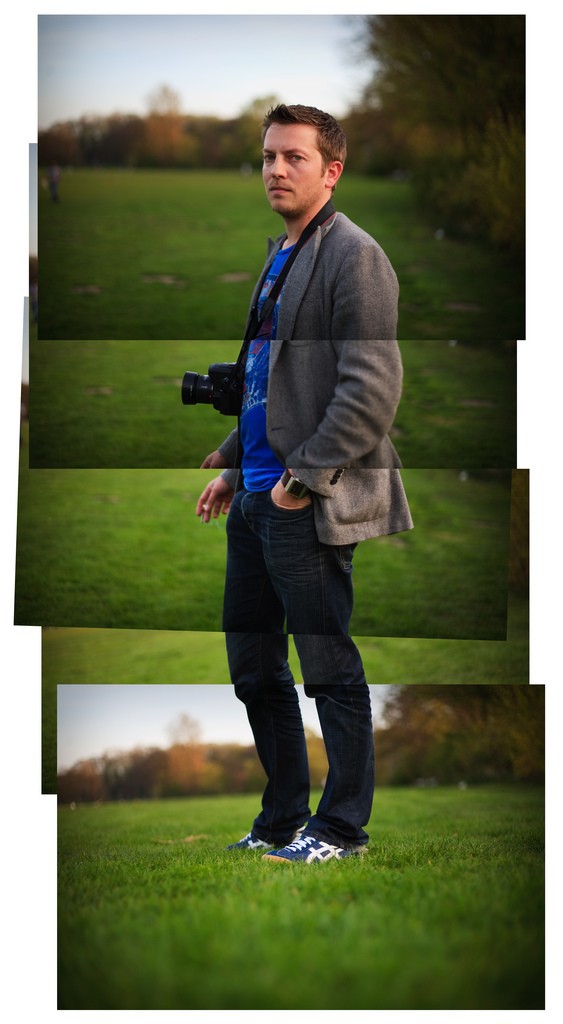 I wanted to shoot portraits, but I wanted to come with a particular style or look in mind so that I didn't scramble around looking for ways to shoot some nice portraits. I'm not the best at thinking creatively on the fly.. I'm a planner, and from planning I sometimes get some spontaneous results that I'm happy with.
Don't get me wrong, I'm not claiming this is wholly MY creation.. I'm pretty sure I've seen others doing something similar but not always including or making relevant to the image the background which I chose to really highlight in these (I hope!) So if you've seen this before, I don't doubt it, I just hope mine are better (also could be doubted hah!)
And these results have made me happy! See the whole collection in my portfolio! And click below to read the rest of this post!
Approx. 20-30 folks showed up over a great 4-hour period in the park motivated to take photos (and be photographed). People were a bit sceptical when I told them what I had in mind... which was taking a series of photos of them starting from their head and lowering the camera taking shots along the way finally taking the last shot with the camera laying on the ground.
What I like about this is it's not simply taking one image and cutting it up, or taking several shots from the same perspective. It causes a bit of a weird perspective especially in the last shot (of the shoes). I Took between 4-8 photos of each person, and used 4-5 in the end.
The main issue I had was that we were shooting in a park with very little variety in the background/scenery. So, with that, I chose to process all the images slightly differntly so that they didn't all have the same exact feel. Some I cross processed, some I color bleached, some I converted to b&w and some I simply saturated. But the variety made me happy. The key (in my opinion) is to slightly tilt the image a bit to the left or right with each shot so that they aren't all perfectly straight and don't place the subject exactly in the middle in each shot. Oh, and I used f1.8 on each shot to isolate them from the background, but you don't have to. I used my 50mm lens.
I absolutely love the shot below of Harm. The combination of his deadpan face, posture, cool shirt and chunk of bread in his hand really does it for me. Maybe my favorite shot of the day.
As the day went on, I realized that many of the shots were too "flat" ie, with the frames not skewed enough to make them interesting. So, as you can see with the below shot, I took many that were really tilted, almost a 45deg angle.
In the end, I think the biggest lesson I learned, and hope to have passed on that day, was to come prepared. Have at least one (if not 10) ideas of what you want to capture, what you want to get out of that day, and start with that. Then, hopefully, the gods of creativity will endow you with something special. And if not that, at least you'll have looked like you knew what you were doing instead of standing around thinking "um, well, let's try.. ummm" which never inspires confidence and confort in your subject(s).
Lucie's shoes simply make the below shot. Been considering simply taking the shot of the shoes and making that my image of this particular session.
And finally, below is one of the b&w versions I took. Added some variety, but I also think something is lost in the DoF due to the lack of color. I never thought color would affect the DoF... hmmm
Again, see the whole see here if you want to. Thanks to all that participated that day, it was great for me!